Who said you have to be fast to be a good base runner?
Very few things make my baseball heart go pitter-patter more than great base running.  Take game five of the AL Division Series between the Blue Jays and the Rangers as an example.  Most of the attention went to Bautista and his bat-flipping homer in the 7th inning but there was a play earlier in the inning that not many people probably noticed.
Russell Martin was on first with nobody out.  A grounder was hit to Ranger first baseman Mitch Moreland.  The throw to second was in the dirt and everyone was safe.  The rest of the inning, well … was history.
I'm not sure if this was mentioned by the announcers during the game but when I saw the play on the highlights, Russell Martin's base running immediately jumped out at me.  Here is a screenshot of what it looked like …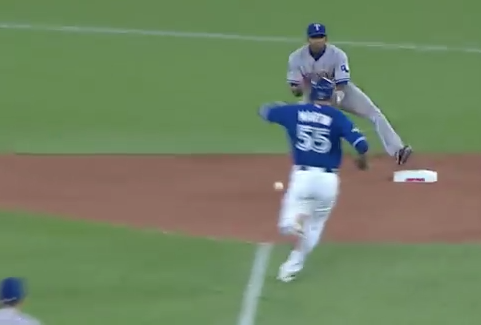 Notice anything?
Whenever a runner is heading towards second base on a possible double play where the feed is coming from the first baseman, he should always veer towards whatever side the shortstop is on.  You can see that Martin did just that.  Runners should do that in the hopes that the throw will either hit them and deflect away from the shortstop, make the first baseman throw over or around them, and/or block the view of the shortstop.
I bet virtually no one in the stadium noticed what Martin did.  But that's the norm when it comes to good base running.  You don't do it for the glory.  You do it to help your team win.