Nothing over your head
If you watch coaches in the dugout late in the game when the game is close, you may see a coach whose team is winning wave his hand up and down behind his head.  This is the universal sign for outfielders that means "play deeper and don't let any ball go over your head."  Here is a picture of what I am talking about.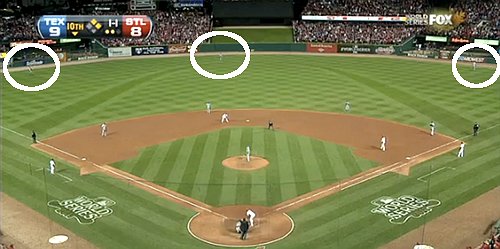 In the photo above the outfielders for the Texas Rangers are playing very deep.  If you look at the score and inning in the upper left you'll understand why.  It's the 10th inning and the Rangers are up by a run.  There are runners on 1st and 2nd.  A base hit will score the tying run and a ball hit for extra bases will probably score the winning run as well.  Because of this, the defensive team will give up the single run but will take steps to prevent an extra base hit.  When the outfielders play this deep, virtually no ball hit will get behind them.  All balls hit will be in front of them making it unlikely the runner on first will score on one hit.  A former coach used to say to my outfield teammates, "if it's over your head, it better be a home run."
You will see defensive teams do this when they are ahead by a run or two late in the game.  They are basically forcing the offensive team to play base-to-base with no extra base hits.  As soon as the winning run gets on 2nd base, the defensive team will have to play more shallow to give the outfielders a chance to throw the runner out at home on a base hit.
Tomorrow's post:  Keep the batter off second base